I have finished objects to share, but they are mostly doilies that still need blocking and photographing. Soon, I hope.
Meanwhile, just to get back in the groove of uploading photos and blogging, there are some random craft-related photos I've yet to share.
- - - - - - -
The first topic is related to longarm quilting.
One of the big benefits of using a quilting machine on a frame is that you can skip the tiresome and often time-consuming process of basting the quilt layers with pins, basting spray, or basting stitches. (Okay, you still do use
some
basting stitches, but the machine does the work, and it's usually only necessary along the edges of the quilt top.)
Of course, the quilt layers still have to attach to the
frame
somehow. How, exactly, depends on your frame and how you use it. With mine, the SR-2 from Grace, you "float" the batting and quilt top, but the backing is attached and rolled onto two rails. The usual way of attaching the backing to the leader cloths (which are in turn attached to the rails) is by pinning.
If you really hate pinning (and I do), there are alternatives to the pins. The one I use is clips. You can buy special clip systems made specifically for the purpose, but a cheaper option is to purchase very similar clips made for
other
purposes. Mondo Clips. They're available on Amazon, which is where I bought mine, and they're a fraction of the cost of quilt-specific clips. (If you're interested, you can find all you'll need to know with a good search engine and YouTube.)
I like mine a lot, so far. Anything to avoid those pins! It's much faster than pinning, too.
My clips came in 40" lengths, which wasn't exactly convenient for using on quilts. I'd read about people cutting them down shorter, so I asked my husband for his opinion on how best to do that. There are of course a number of options, but the one we settled on was so easy that I did it all myself.
One of these ratcheting plastic pipe cutters makes cutting through the Mondo Clips a breeze! It wouldn't be worth buying just for this purpose, but if you've had to do plumbing repairs (as we have), you may already have this handy tool or one like it.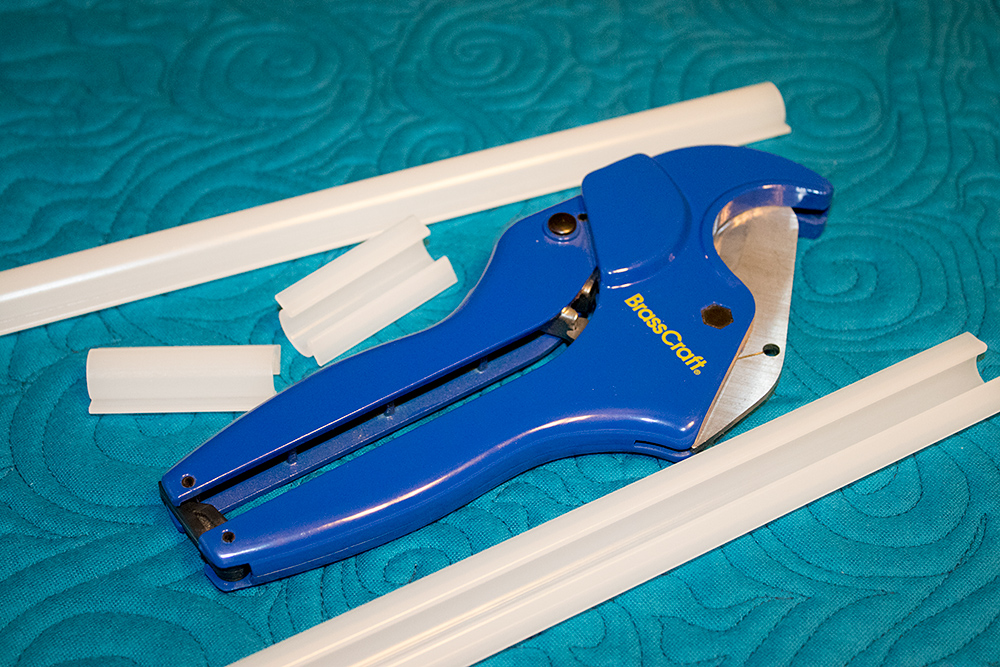 I cut the 40" lengths down to four 10" sections, then I took one 10" section and cut it into 2" segments, because I'd seen a video in which someone used the 2" bits to hold the fabric temporarily into place until she could snap on the 10" sections.
I also cut one of the "inner" pieces to fill the full length of the leader cloths. (I already had two of the full-length pieces in each leader cloth, but there was a significant gap.)
I'm excited to try these newly shortened clips; I'm sure they'll be much easier to handle than the unwieldy original length ones were!
- - - - - - -
My next photos are also technically related to the longarm, but they can potentially be useful for domestic sewing machines, too.
Back when I was shopping for needles, I noticed that the replacement needles that came with the Q'nique 14+ were the same brand as some needles available very cheaply on AliExpress.
(In the photos below, the pack on the left is what came with my quilting machine, and the stack of packs on the right is what I ordered online. The stack of needle packets came in the blue box. They look the same to me.)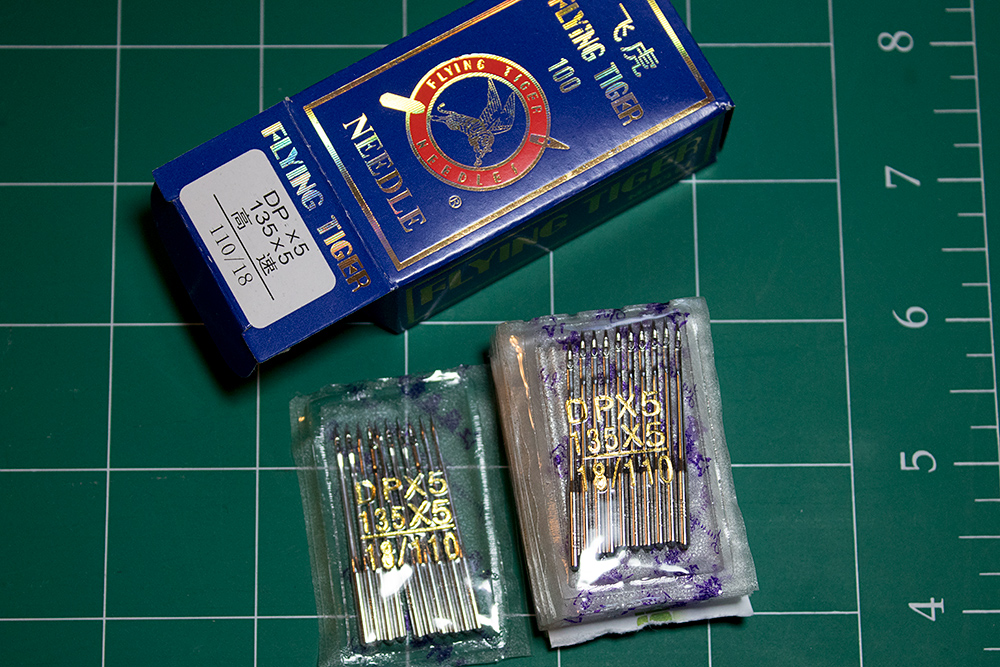 Now, I won't pretend to be a needle expert, and I know these are just cheap needles from China... but seriously, if they're good enough for Q'nique to send out with their brand new machines, I figure they're good enough for me, at this point in time!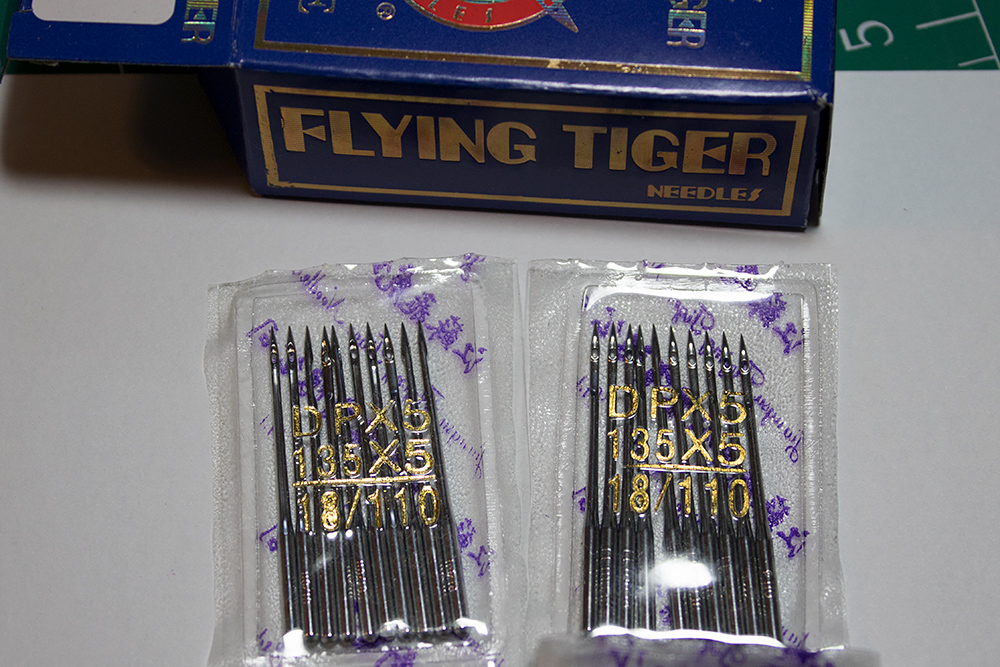 Here's the back side of the needle packets, with the brand name printed in purple ink. Top pack is what came with the machine, bottom is what I ordered online.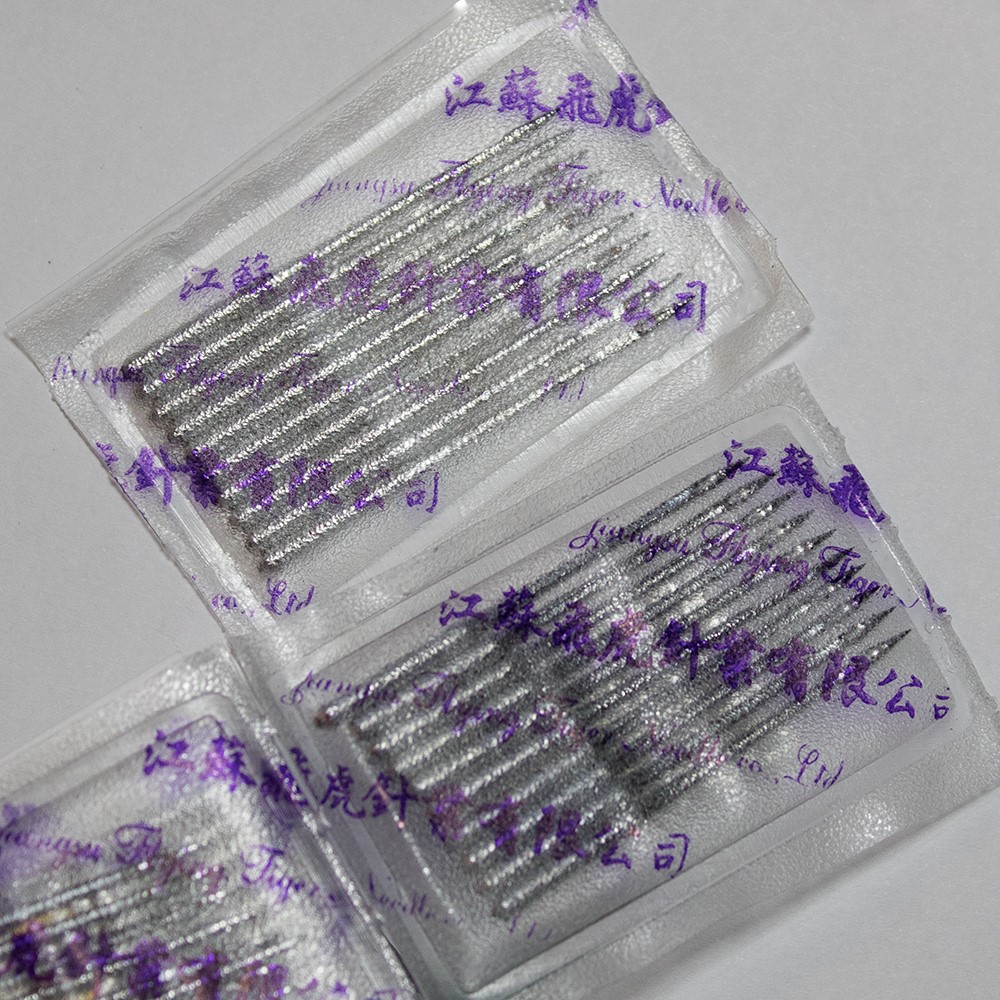 If you'd like some, too, I'm sure they're still available online. The brand is Flying Tiger. Just make sure you're ordering needles for a quilting/industrial machine. For the Q'nique, I ordered DPx5, 135x5, 18/110, since that's what came with the machine, but I may order more in a different size (something other than 18), to have on hand. (Sometimes different threads/fabrics/etc. behave better with a thicker or thinner needle.)
I ordered some needles for my domestic sewing machine from the same place, at the same time. Again, just be sure you're ordering needles for a domestic machine.
Now that I have oodles of needles on hand, maybe I'll change them more often (like everyone says you're supposed to do!)...
- - - - - - -
One of these days, I want to take some new craft room photos, because quite a few things have changed in there since the last time I photographed it-- new floors, new paint, etc.-- but there's no telling how long it might be before that happens.
For now, here's a photo of an ironing board turned into a magnet/inspiration board. The ironing board is one Mom gave me after she got herself a new one. It's the one I grew up seeing her use, and I used it for several years, too. However, it hadn't been getting much use for a while (ignored in favor of other, always-ready ironing surfaces in the craft room), so I decided to give it a new life as a magnet board.
First, I took off the folding legs-- no easy feat! The original paint was a boring beige that had worn off in some spots, so Donald and I sanded that off and spray-painted it a bright, cheerful red. The magnets are some polymer clay buttons and pizza slices (made back in the claying heyday), lots of Swedish bottle caps, and a magnetic-beaded necklace from Granny L.
I love it!
- - - - - - -
This last photo isn't strictly craft-related (or even craft-room-related), but it explains why I might not be as frequent a blogger as I'd like (though I've been an infrequent blogger for a while, now). Meet our new puppy, Mister Frodo (a.k.a. just plain "Frodo")!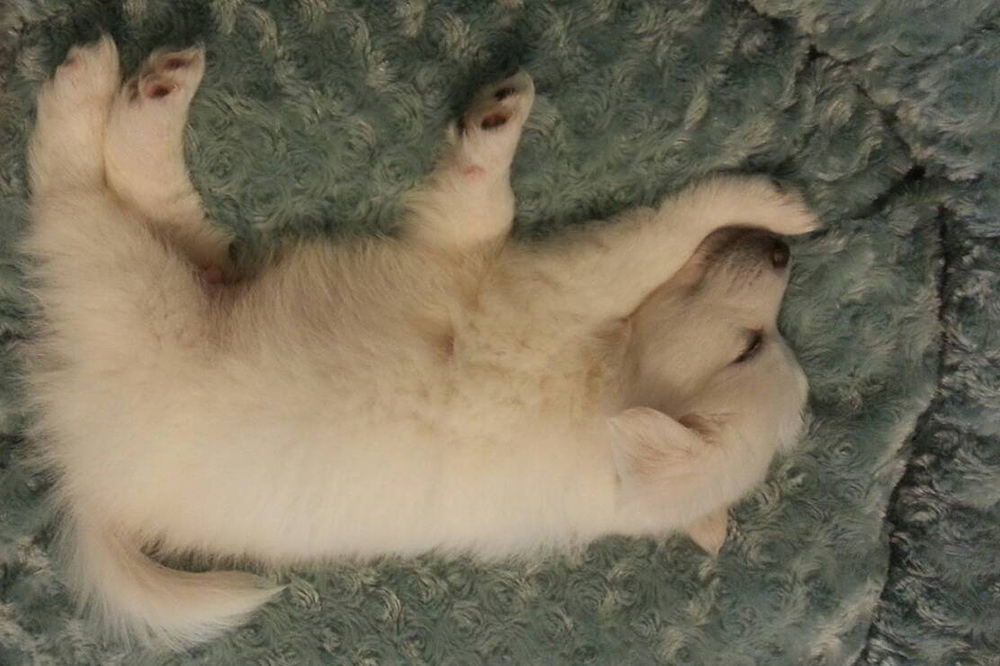 Isn't he adorable? (I may be biased...)
He's an American Eskimo Dog (Eskie), and we'll have had him for two weeks on Thursday. The photo is from the day after we brought him home, and it's amazing how much it feels like he's grown and changed already! He's a little sweetie, but he also takes a lot of time and energy, at this age.
So if I'm even slower to blog than usual, Frodo can take the "blame".
However, on the other hand, maybe he'll inspire some projects of his own. I did make an armful of soft toys from scraps of denim, flannel, and fleece, while we were waiting for him to be old enough to take home.
I've also made him a couple of crate pads, which are essentially miniature wholecloth quilts. (You can catch a glimpse of one of them under the Mondo Clips in the first photo of this post.) It's a great excuse to use up some flannel and just doodle on the quilt machine--
and
I'm using up the excess scrappy binding to finish them up. I'm already planning to make another couple for spares.